---
We have a Read More program in which we run a series of free events based on topics that interest the local community and that provide lifelong learning skills.
The events that we think would interest your school community are below. We appreciate your help in this matter.

Moreland City Libraries Free Events

Registrations essential online at moreland.vic.gov.au/read-more or phone 9353 4000

Celebrate Diwali – cooking demonstration and drawing a rangoli
7 pm, Tuesday 13 November
Glenroy Library
Learn how to prepare traditional Indian snacks and discover their association with Diwali, the Hindu festival of lights. A rangoli is an art form using intricate patterns. Geeta will demonstrate how easy and enjoyable it is to make a chalk rangoli.
Please note, this is a demonstration only.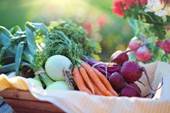 Raised garden beds are for everybody
1 pm, Friday 7 December
Glenroy Library
Gardening is an activity that fortifies the mind, body and spirit. A thoughtfully planned garden can be modified to accommodate people with an injuries or disabilities, physical or mental. The ultimate goal is to have a garden that can be engaging as well as accessible to everyone with a range of abilities.

Kombucha workshop
7 pm, Thursday 15 November
Coburg Library
Kombucha is a fermented drink that boosts your immune system, increases energy and aids digestion. Dean from The Good Brew Company will teach you how to create the perfect batch of kombucha using sustainable and simple techniques. Please let us know if you have any food allergies.

Zero-waste living – is it achievable?
7.45 pm, Thursday 15 November
Brunswick Library
Tammy Logan is the author of the popular Gippsland Unwrapped blog where she shares how her family have significantly reduced their waste and other ways of practicing sustainability. Tammy started her journey by completing 'Plastic-Free July' and has gone on to tackle all aspects of low-waste living. She will take us through the practical aspects and realities of committing to a zero-waste home.
Heidi Babatsikos
Community Programs Librarian | Moreland City Libraries
90 Bell Street, Coburg 3058 | Locked Bag 10, Moreland 3058
9353 4011 |

hbabatsikos@moreland.vic.gov.au


Monday 5.00pm-8.00pm, Wednesday 8.30am-4.00pm, alternate Thursday/Friday 9.00am-5.00pm