School Wide Positive Behaviours (SWPBS)
A safe and orderly school environment is important to learning. Disruptive classroom behaviour is known to interfere with learning and is a cause of stress and concern for students, teachers and families.
Most children start school with the social skills they need for success. They have learned these socially valued behaviours from their parents, families, carers, early childhood learning experiences and their social networks. Children learn behaviours very quickly, but often they also learn "misrules" or behavioural errors.
At John Fawkner College we have adopted a Schoolwide Positive Behaviour Support (SWPBS) framework. This is an evidence-based, whole school framework that guides expected behaviours and values, through agreement by all staff, students and parents on what expected behaviour looks like and sounds like at our school.
The strengths of this framework are:
Good behaviour improves teaching and learning for your child and other students.
Expected behaviour is taught directly to all students.
Students will be acknowledged when they get it right and encouraged to keep improving their behaviour as they develop.
Problem behaviour will be discouraged by a continuum of appropriate consequences.
Parents are valued partners in the education of their children.
Parents are welcome at their child's school.
Values and Expectations Matrix
The John Fawkner College Values and Behaviour matrix is a collaboration between staff and students to develop a set of agreed expectations and behaviours across every area of the College. These expectations and behaviours form the basis for our student management policies.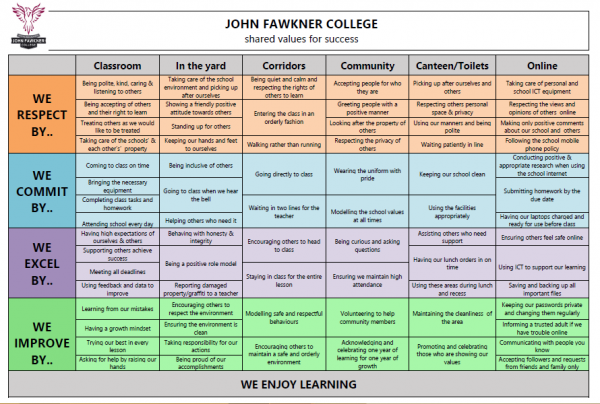 Click on the image above for a clearer view.